Parenting During COVID
Many of you have shared that the pandemic has had a strain on your relationships. For some, their teenage children or spouses disagree about the safety of injections. Others have coworkers or friends who do not sympathize with their concerns. Some are trying to navigate new requirements and safety measures at their children's schools.
It can be hard to handle these scenarios with grace and conviction. So, we asked Hilary Boynton to share what she learned from her personal experiences. This is an emotional topic, so we wanted to invite a guest who would be able to empathize and relate.
This article offers highlights from our conversation with Hilary. She was a featured guest for our Safe Haven Fireside Chat series. In this series, we make space to talk about difficult issues with friends in the natural health community. You can register for our next Safe Haven Fireside Chat by clicking here.
About Hilary Boynton, Author and Founder of the School of Lunch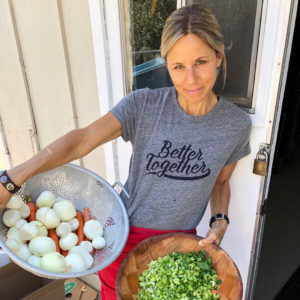 Hilary Boynton is the author of The Heal Your Gut Cookbook and the "lunch lady" at her children's school in Topanga, California. Using natural remedies and nutrient-dense foods, she helped her family improve and recover from illnesses, including epilepsy, eczema, and cancer. She founded School of Lunch to teach the importance of feeding children whole foods. Through her Lunch Leader Training Academy, she teaches others how to transition their local schools to a healthy diet.
Hilary is the mother of five children and navigated differences of opinion with her close relatives during the pandemic. We are grateful she was able to share these lessons learned with our community!
People are at Different Points in Their Health Journeys
Like many in the natural health world, Hilary's mindset changed after she and her family struggled with health conditions. When the conventional methods offered no relief, she moved towards a therapeutic healing diet to help them recover. Through this process, her opinions about food and medicine changed. 
This shi Hilary to feel confident in her family's health, because she knew she was feeding them well, and giving their bodies what they needed to stay well.
But, not everyone has had a personal health transformation that has helped them see the power of natural healing. Those who have not had these experiences may not be open to hearing alternative opinions during this pandemic. 
And, those who have chronic conditions and autoimmunity can react unpredictably to certain medical interventions including injections. To those who are in this situation, the choice is clear, but to others who are not as sensitive, there doesn't seem to be any reason to be worried. And, there are a lot of people who will never be impacted by a medical intervention to the same degree as others.
"Every person is not going to react the same," Hilary said. "We are snowflakes, not cookie cutter, or one-size-fits-all."
Hilary continued explaining that it is hard to question things we have always believed:
"It's a process, and we have to meet people where they are in that process."
Find Your Like-Minded Community
Robin and Hilary both talked about how challenging it can be when no one shares your opinions. When your close friends and relatives do not agree, the stress and frustration can come out at home. We need to find people who can relate.
Moms can suffer from this in a heightened way. Hilary spoke about how moms are uniquely all-consumed with their children's health. They can spend hours researching the best possible solutions. Even when their partners care, they do not always share the same level of concern.
"We all need a health community," TBYH founder Robin Shirley shared. "We need people who can listen and not take our anger and frustration personally because they understand where it is coming from."
Parenting Pandemic Teenagers
Hilary has five teenagers who all have differing beliefs about health, the pandemic and how to move forward. Their pre-existing health conditions are always a concern for her as they begin to make their own medical choices.
Educating Children to Empower Them
Over the years, she has used food as medicine to help heal their bodies and has educated her kids, sharing the "why" behind how she cares naturally for their health. She explains why these choices, such as eating real foods and using natural medicine, are important. By doing so, she hopes to empower them to make wise decisions on their own.
A New, Dangerous Form of Teenage Rebellion
"All teenagers rebel, but it's hard when this is now," Hilary said about her child's decision to get the COVID injection. 
"It's a hard, different world," Hilary continued. "I love my children, so I am working to let go of what I can't control and doing my best to educate them."
The long-term impact of the injection is unknown and there are current concerns surrounding it. Some children have agreed or disagreed with their parents' opinions. Others have remained indifferent.
"When kids rebel with their health, or simply don't show as much concern as us, moms like me feel like we failed," Hilary shared with tears in her eyes. "We feel like we are not good moms. We think if we had just found the right article or way to put things, our children would have listened."
Hilary emphasized that moms have to let go of this guilt. Older children especially will not always make decisions they like. All they can do is keep the dialogue open and keep loving them through it.
Fear is the Real Pandemic
"Holding onto anger is like drinking poison and expecting the other person to die," Hilary said. When we hold onto our anger or stress over another person's health decisions, we are only hurting ourselves. Find a community who agrees and understands, so you are more free to love those who don't.
"Fear is the pandemic," Hilary concluded. "Our bodies are miraculous. If you feed it well, get sunshine, don't stare at a screen all day, make time to laugh and relax, you will feel better and get through this."
Connect with Hilary and Sign up for the next Safe Haven!
We are so grateful to Hilary for sharing from the heart about her experiences through the pandemic! To connect with her, go to www.schooloflunch.com. You can also follow her fun Instagram account @school_of_lunch_.
For the chance to sign up for the next Safe Haven, join our email list at www.tbyhguide.com! Each live event is FREE!
We hope this helps you on your journey to take back your health!
Disclaimer
We want to remind you that Take Back Your Health™ is not a medical authority! We create spaces for our communities to share health concerns and find resources to aid their health journeys. In the SAFE HAVEN Fireside Chat series, we invite experts to share about their areas of research or experience.  
We encourage you to consult with these experts or other professionals before applying the advice to your situation.  Additionally, links throughout this article intend to define difficult concepts. They are not explicitly recommended sources for information.