Located in a field of wildflowers, The Movement Barn in Charlottesville, Virginia, provides private GYROTONIC® sessions in a picturesque setting. This unique workout is available for people of all ages and levels of ability.

What is the GYROTONIC® Method?
Created by professional dancer Juliu Horvath, the GYROTONIC EXPANSION SYSTEM® is a unique, holistic approach to movement and exercise.
This low impact system uses flowing exercises with circular and spiral motion to open energy pathways, stimulate the nervous system, strengthen and create space in the joints.
GYROTONIC® classes are designed to take the body beyond its current limitations. We all get into specific movement patterns throughout our daily life, and our body listens! When we have chronic pain or tension, or underdeveloped muscles due to our lifestyle, a trainer who can identify this and create a low-impact yet highly effective workout is so valuable!
Exercises are performed on the Pulley Tower Combination Unit, a large machine with cables and rotating discs that can be fully customized for each client's size and level of strength.
Some of the results you can expect are increased freedom of movement, greater strength, and more agility.
GYROTONIC® trainers can create customized workouts based on your unique body type and health status, and they shape a plan to get you the specific results that you're looking for.
Some of the benefits of a regular GYROTONIC® practice include:
a healthier, more supple spine,
increased range of motion,
greater joint stability,
improved agility and athletic performance
and a deep internal strength
GYROTONIC® trainers offer personalized sessions that are adapted to fit the needs of all ages and abilities!
Why we love the GYROTONIC® Method
We love the GYROTONIC® Method!
It is low-impact and customizable, making it a perfect workout for those with chronic pain and joint instability, injuries, or anyone just getting back into an exercise routine.
The movements are designed to do more for your body than build strength and tone – the flowing exercises open energy pathways and create more space in the joints and body – a valuable addition to any healing lifestyle!
Carefully crafted sequences create balance, efficiency, strength and flexibility!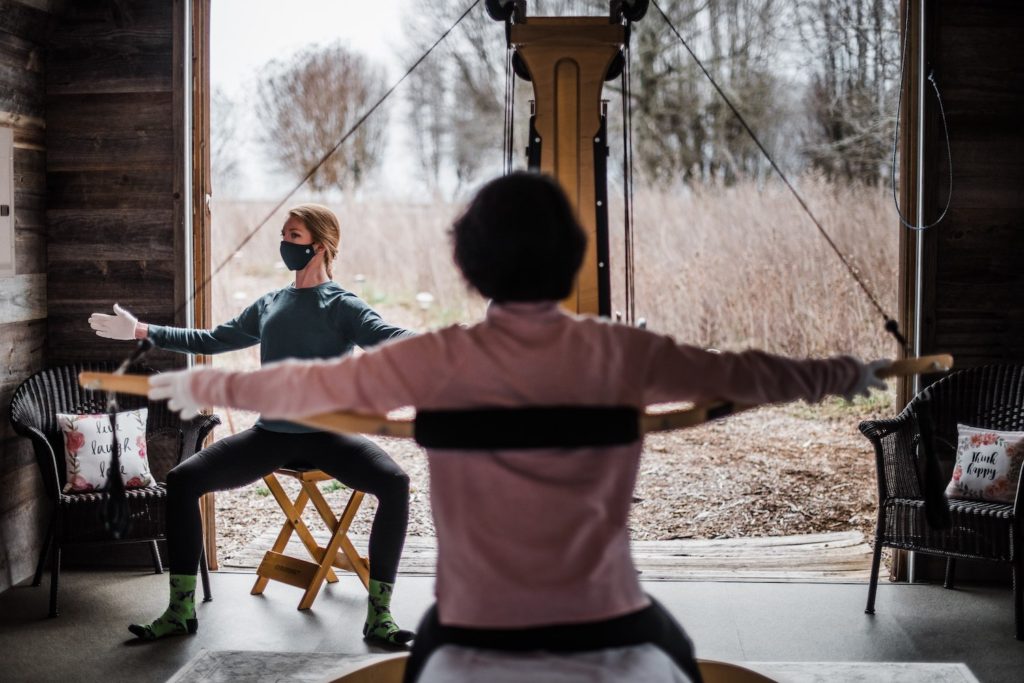 Who is the GYROTONIC® Method for?
People from all walks of life take GYROTONIC® classes, including fitness enthusiasts, senior citizens, accomplished athletes, and people recovering from an injury or dealing with a disability. GYROTONIC® exercises help athletes improve their performance, and rehabilitation clients recover more quickly and fully post injury.
Meet the trainer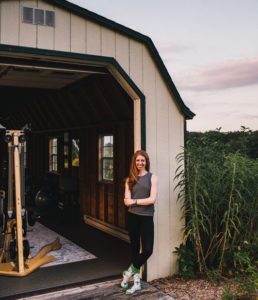 Casey, the inspiration behind The Movement Barn began her GYROTONIC® training while dancing with Texas Ballet Theater in Fort Worth, Texas. She continued training at San Francisco GYROTONIC® while participating in the LINES Ballet Training Program.
She studied under well-known GYROTONIC® Master Trainers while finishing her last semester, and began teaching private sessions in the Bay Area before accepting a job dancing with Royal Caribbean International. In between trips around the world, she completed additional GYROTONIC® training.
She is now settling into "land life" in Charlottesville and can be found teaching private GYROTONIC® sessions at The Movement Barn, teaching at Charlottesville Ballet Academy, training at AKT Charlottesville, or playing with her pup, Bonnie.
To learn more about The Movement Barn and book a session, visit: www.themovementbarn.com