Farmstead Ferments Mercantile and Fermentaria is a locally-run, Virginia-based shop that creates healthy and healing products for the body and spirit. A true embodiment of farm-to-table, Farmstead Ferments creates delicious food, sourced from their own farm. Their respect for seasons and time-honored traditions led to their passion for creating ferments that provide extra nourishment for the body, while preserving the foods of the passing seasons.
You can find Farmstead Ferments products at local health food markets all over Virginia, and at their local food market, The Mercantile, in Scottsville VA.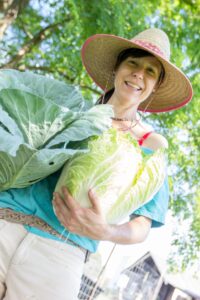 Respect for the Earth, Respect for Community
From the way they grow their food to the places they source their products, Farmstead Ferments is a role model for giving back to the earth and the community. Through their own Free Bird Farm, they grow fruits, vegetables, and flowers, keep bees, and raise chickens. On their farm, they incorporate soil regeneration, natural farming methods, and organic practices.
If they need a food or ingredient they don't have, they look to other local farmers first. To quote their website:
"We grow or source locally over 90 percent of the ingredients used in our products during Virginia's 9 month growing season each year. Buying vegetables, fruits and herbs directly from our local farming community supports them toward having viable farm-based livelihoods and lifts the community as a whole by protecting rural landscapes and natural environments."
In everything they do, their goal is to work with Mother Nature to create "tasty, nutrient dense nourishment that feeds the body, soul, and soil." 
Inspired Food from Creative Souls
Much of what makes Farmstead Ferments' food special is the love that is behind creating it. Founder Dawn Story has a passion for capturing the old traditions, following the rhythms of nature, and sharing them with the future generations. She does this through her ferments and also through her own herbal remedies. Her team members have diverse backgrounds in farming, gardening, and sustainability. They all share a passion for allowing the patterns of nature to inspire their creations and sharing the goodness of the raw, natural products with their customers.
A Delicious, Fermented Menu
Farmstead Ferments has dozens of mouth-watering fermented food and beverage options. Their thoughtful menu includes a variety of krauts, including:
Classic Kraut

Garlicky Greens Kraut

Daily Detox Kraut

Immune Tonic Kraut

Salsa Kraut

Bok 'N Broc (a unique seasonal favorite)
It also includes seasonal pickles, salsas, and homemade beverages like water kefir soda, fermented coffee, and fermented veggie juice. 
Their Scottsville, Virginia shop, The Mercantile, features a pickle bar, grab and go meal options, and additional, locally sourced wellness products. You can stop in, browse their mini thrift store full of "funky finds", and purchase some delicious seasonal foods to take home with you. 
Find Farmstead Ferments and Other Neat Local Eateries!
Don't live near the Mercantile? Farmstead Ferments' products can be found in stores across Virginia! Connect with Farmstead Ferments and other neat, healthy places in your community in the Take Back Your Health Directory! Or, if you own or manage your own health store, join the Directory here.