Written and Compiled by TBYH Staff
We prioritize financial freedom as an important part of total mind-body wellness here at TBYH.  We believe that our lives are meant to be lived fully, and it is hard to live fully when the stress of money problems is weighing us down with worried thoughts or fears.  It can squash some of the joy out of life!
So, we've compiled a list of our favorite books that help with just that: reducing money stress and creating financial peace.  These books will help you pursue more sustainable, less backbreaking income streams- and mindsets.
We hope that, within this list of books, you find something that piques your interest and gives you the tools and blueprints to reduce your financial worry and increase your income and joy.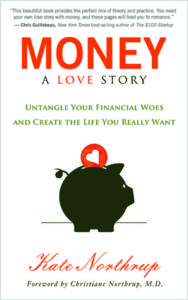 We love this book and Kate's heart-warming approach to facing the challenges of financial freedom and money management. She gently guides us to embrace (and overcome) the negative associations that are so common with money.
She candidly shares her journey with getting out of $20k in debt by 28 years old and opens up about the money mindset that was holding her back – including so many lessons that will resonate universally.
The book is sprinkled throughout with spiritual lessons and real life tools and resources.
"Having a good relationship with money is tough—whether you have millions in the bank or just a few bucks to your name. Why? Because just like any other relationship, your life with money has its ups and downs, its twists and turns, its breakups and makeups. And just like other relationships, living happily with money really comes down to love—which is why love is the basis of money maven Kate Northrup's book. 
Using client stories and her own saga of moving from $20,000 of debt to complete financial freedom by the age of 28, Northrup acts as a guide in your quest for personal financial freedom.
She'll teach you how to shift your beliefs about money, create a budget, spend in line with your values, get out of debt, and so much more. In short, she'll teach you to love your money, so you can love your life." – Amazon Review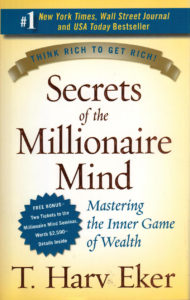 Secrets of the Millionaire Mind is a fun read – full of energy and encouragement. We love the challenges and assignments given at the end of each chapter, designed to bring the teachings of the book into your physical reality, so that your mindset can actually shift.
Some might find it is written in a slightly whimsical voice – naive to the real challenges of life – but we felt that this approach showcased even further the refreshing new approach to money mindset that Eker is trying to teach.
Money isn't anything special, and it's not reserved for a certain group of people. It really is a matter of mindset and approach. 
"In his groundbreaking Secrets of the Millionaire Mind, T. Harv Eker states: "Give me five minutes, and I can predict your financial future for the rest of your life!"
Eker does this by identifying your "money and success blueprint." We all have a personal money blueprint ingrained in our subconscious minds, and it is this blueprint, more than anything, that will determine our financial lives.
The good news is that now you can actually reset your money blueprint to create natural and automatic success… According to T. Harv Eker, it's simple. If you think like rich people think and do what rich people do, chances are you'll get rich too!" – Amazon Review
3. Nice Girls Don't Get Rich: 75 Avoidable Mistakes Women Make with Money by Lois P. Frankel, PhD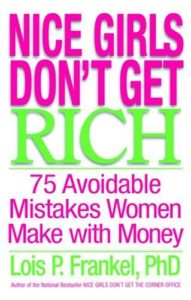 Written in a tone of tough-love, this book is full of no-nonsense tips to help you face your weaknesses around money management and empower you with tips that you wish your parents had taught you!
Despite the title, this book is beneficial for any gender, with practical advice for anyone feeling powerless when it comes to finances.
The chapters are short, easy reads that you can get through in a few minutes a day!
"If you have outstanding balances on your credit cards…don't have assets in your own name…are saving instead of investing, then chances are you're not rich and not living the life you want….
She isolates the messages about money given to little girls that little boys never hear. Then she helps you discover the financial thinking that is keeping you stuck in old patterns, dependent relationships, and jobs where you earn less than you deserve….
Her coaching tips help you take control of your finances and make more money than you ever thought possible." – Amazon Review
This would not be a list of the top financial freedom books without the Four Hour Workweek!  Tim Ferris revolutionized the way the millennial generation thinks about work, lifestyle, and money.
What was so great about this book was the nod to families who have 9-5 jobs and won't be leaving them anytime soon.
Timothy lays out exactly how you can start to increase your income through side hustles, that don't actually make you hustle at all. He stays true to his Four Hour Workweek motto with all of his advice, ideas, and recommendations. Life is meant to be lived, not spent sitting at a desk.
"Forget the old concept of retirement and the rest of the deferred-life plan–there is no need to wait and every reason not to, especially in unpredictable economic times. Whether your dream is escaping the rat race, experiencing high-end world travel, or earning a monthly five-figure income with zero management, The 4-Hour Workweek is the blueprint.
This step-by-step guide to luxury lifestyle design teaches:
• How Tim went from $40,000 per year and 80 hours per week to $40,000 per month and 4 hours per week
• How to outsource your life to overseas virtual assistants for $5 per hour and do whatever you want
• How blue-chip escape artists travel the world without quitting their jobs
• How to eliminate 50% of your work in 48 hours using the principles of a forgotten Italian economist
• How to trade a long-haul career for short work bursts and frequent "mini-retirements"" – Amazon Review
5. Rich Dad, Poor Dad: What the Rich Teach Their Kids About Money That the Poor and Middle Class Do Not! by Robert T. Kiyosaki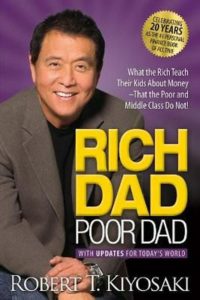 A classic, this book brings to light the very different ways that families talk about money – and therefore influence the financial literacy and success of their bloodline for generations!
Kiyosaki is a compelling storyteller and you'll feel like you are reading more fiction than non-fiction as he walks you through engaging examples of the money lessons he learned from two very different but important dads in his life.
"Rich Dad Poor Dad is Robert's story of growing up with two dads — his real father and the father of his best friend, his rich dad — and the ways in which both men shaped his thoughts about money and investing. The book explodes the myth that you need to earn a high income to be rich and explains the difference between working for money and having your money work for you.
In many ways, the messages of Rich Dad Poor Dad, messages that were criticized and challenged two decades ago, are more meaningful, relevant and important today than they were 20 years ago." – Amazon Review
6. Don't Worry, Make Money:
Spiritual & Practical Ways to Create Abundance and More Fun in Your Life by Richard Carlson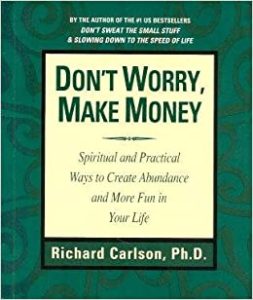 This book gives you the feeling like you're having the most wonderful and comforting conversation about financial goals with your dad, sans judgement and worry, that would never, ever be possible in real life.
The topic of money usually comes with so much emotional charge that it can be nearly impossible to have meaningful and effective conversations about it.
In his friendly and fatherly approach, Richard Carlson gives us the space and the framework for thinking about money without stress, worry, or shame. He shares new approaches to a lifestyle that naturally allows for more income and more financial freedom. It's all good in this book!
"In Don't Sweat the Small Stuff, Richard Carlson revealed new ways to calm down and enjoy more peace in our lives. Now, in Don't Worry, Make Money, Richard Carlson provides more new strategies for living more fully and worrying less as a means of attracting more wealth and abundance in our lives.
Often we get into the trap of thinking that the only way to earn a good living is to stay late at the office, feeling stressed out and full of anxiety.
However, this can actually get in the way of having a productive and rewarding career, and can drastically decrease our earnings. "Accept the fact that you can make excuses, or you can make money, but you can't do both," Carlson tells us." – Good Reads Review
Do you have a favorite Financial Freedom book that we didn't mention? Please share it with us in the comments!