An interview with Jesse Straight, of Whiffletree Farm
Farmers Jesse and Liz Straight and their team at Whiffletree Farm raise and sell pasture-raised chickens, eggs, and turkeys; foraging pork; and 100% grass fed beef. No chemicals, no antibiotics. Non-GMO grains for the pigs and poultry, just fresh pasture.

What inspired you to become a farmer?
"My desire to farm was inspired by a combination of several things. One was learning about how conventional farming and food did not prioritize the health of the eaters, land, animals, farmers, and communities. I saw that maybe this was a little area of the world that I could work away at some good.
Secondly, I really enjoy doing physical work outdoors.
And thirdly, I wanted work that was well integrated with my hopeful family life!
I first realized that farming was the right fit for me when a friend gave my wife and I the book A World Lost by Wendell Berry." -Jesse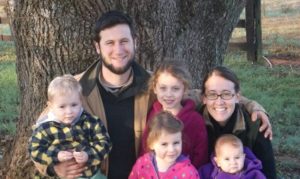 "The ideas in the book radically changed the way they viewed "the good life". In pursuit of a more integrated life that blossoms out of the home, they started Whiffletree Farm. The Straights have had many adventures as new farmers do and made many of the mistakes that new farmers make, but they stuck with it through the hard parts and the outcome has been a great success. They are now attempting to offer back to the farming community by teaching hopeful farmers the same lessons they learned as "Greenhorns" through apprenticeships that help young farmers to learn the ropes." -4P Foods
What's do you enjoy most about farming life?
"The best parts are working with animals, our team, and the satisfaction that comes from knowing and seeing happy customers!
To be more concrete, when you are out there in the beautiful pasture, and moving chickens from their old spoiled spot to the lush and clean fresh pasture, and you see how happy and clean they are, and you see how the land is jumping up in response the chicken fertilizer, it is a happy and satisfying sight!
There are so many rewarding moments throughout the day! I love calving time and coming upon a mother cow with her just-born new calf, licking it off, proud and protective, and that baby calf wobbling after its mother! A beautiful sight!
Also, I just love the regular interactions with our customers. We have very gracious and supportive customers–it's a treat. I especially like to hear from customers who have health victories resulting from eating our food or hearing about a customer's enjoyment of a great meal that included meats we have raised." – Jesse
What is different about Whiffletree Farm?
First and foremast, we are just a farm, and I'm a farmer raising meat chickens, egg laying chickens, turkeys, pigs and cows.
But we raise our animals on constant fresh pasture, and without antibiotics, GMO feeds, or chemicals.
"Jesse believes that at its best farming should emulate nature and he ensures that the animals on Whiffletree Farm are living as close to the way they would normally live in the wild as possible.
He also states the daunting truth that "if you don't pay attention to the way nature works then you're going to run into problems and nature will always have the last word".
As a farmer, the thing that would give him the most pride is seeing the land he is cultivating become more fertile than when he started. Whiffletree Farm takes great pride in their land improvement and animal welfare practices and of course in the high quality of their products that result." -4P Foods
Meet the farmer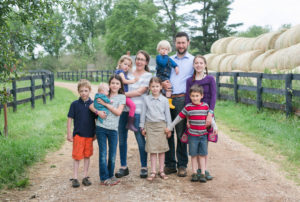 Jesse Straight, farmer and founder of Whiffletree Farm, was born and raised in Fauquier County, graduating from Fauquier High School in 2000. 
After finishing studies in religion and pre-med at UVa, marrying his wife Liz, and working in Charlottesville, Jesse read a book by Wendell Berry that inspired him to learn more about farming through reading, visiting farmers, and making forays into small farming ventures.
In April 2009 Jesse and Liz moved back to Warrenton to be near his family and old friends, and to start their farm business! They were happy to return to Warrenton but
did not know all the ways in which they would be so well befriended and cared for here.
By 2012 the business was in need of additional acreage and so the Straights moved to Whiffletree Farm, where they have been ever since.
To learn more about Whiffletree Farm and order online, visit: www.whiffletreefarmva.com