There are many ways to build strength, but not all are equal, especially when preparing for pregnancy. The shifting of the body, the unequal distribution of weight, and the huge event of delivering a baby all require a different approach to physical fitness. With the proper guidance and method, women can prepare for healthy, strong pregnancies and postpartum.
We reached out to Robin Truxel, founder of truPilates and sister company tru strong mama, to find out more.
Robin is a Certified PHI Pilates instructor and holds a Masters in Physical Therapy from Ithaca College in New York. She founded truPilates in 2005 to help people feel better in their bodies. Once she became pregnant in 2014, she discovered a passion for prenatal Pilates and postpartum recovery. She founded her sister company, tru strong mama, to create a place where she could share her passion and expertise with other women preparing for or recovering from pregnancy.
We hope this interview with Robin can help inspire and encourage other women, in every stage of their motherhood!
Q: What do you teach through truPilates and how does it benefit everyone, especially moms?
I often say I teach Pilates with a physical therapy brain! I am a PT, a Pilates teacher, and a Stretch Therapy teacher. I specialize in working with mamas: helping new moms get ready for labor and support their ever-changing pregnant bodies, helping moms recover from childbirth, helping moms (and grandmoms!) reconnect to their deep, inner core using breath and simple movements. I am so lucky in that I get to help people feel better in their bodies, finding more ease, strength, freedom in their physical selves! 
Q: What inspired you to specialize in working with moms, and what are some basic ways you help them?
I struggled with different pregnancy-related aches and pains myself and went back to exercising too soon, so I know firsthand what it feels like to be injured while pregnant and with a newborn. I was pretty grumpy and learned a lot about this time period experientially.
I studied ergonomics in PT school and love applying it to "momming", which is NOT a low resistance activity! Some of the most basic things I teach new moms are feeding positions and how to connect to their cores when they pick up their babies from the floor, or carry car seats and awkward baby gear.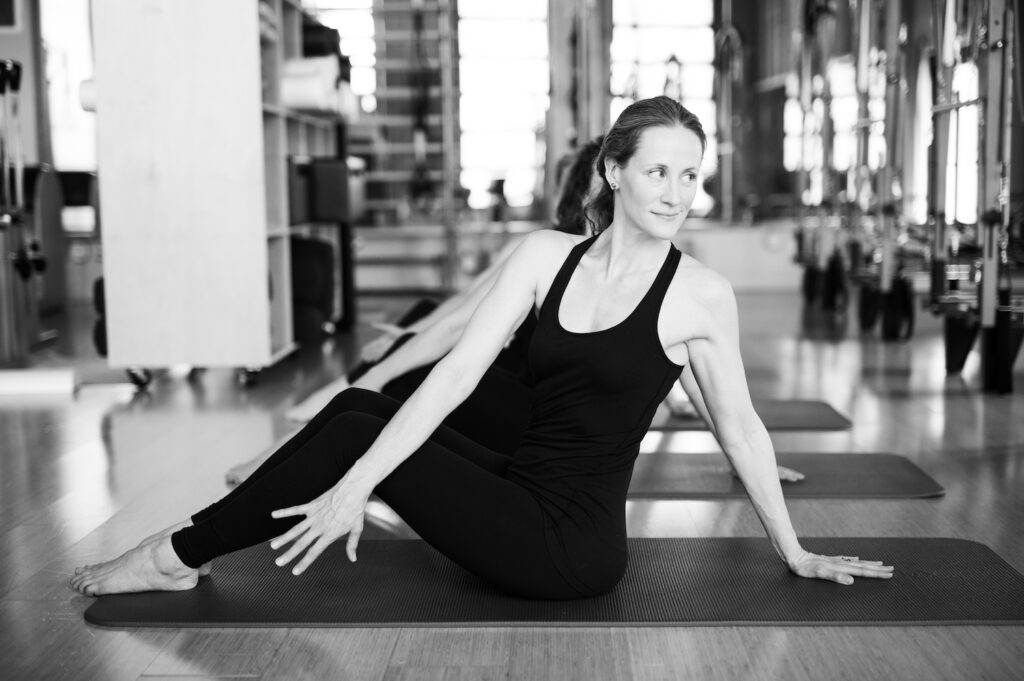 Q: What are some common misconceptions about preparing the body physically for birth? 
I think the two biggest misconceptions I encounter regarding fitness and pregnancy are:
Keep doing what you were doing before you got pregnant

, no need to change it. This is wildly untrue, unless you were doing prenatal Pilates or yoga before you got pregnant.

You can go back to doing whatever you were doing before you got pregnant

after your 6 week check up. Growing, nurturing, and birthing a small human is an enormous undertaking and working with someone who is trained to work with pregnant women is crucial!
Q: Can you see differences in birth outcomes from just simple physical training prep before birth?
This is hard to answer, because there are so many factors that go into it. But, my mamas have told me they have had easier times with active labor, with pushing, and especially with healing times post birth. Some specifically experienced less tearing than with prior births after training, but again, there are many factors that can contribute to this. 
Q: Are there different ways you train women, depending on their trimester?
I train each mom depending on her unique body and orientation, but there are some general similarities. 
In the first trimester, I focus more on pelvic floor/deep abdominal connection and engagement. During the second half of the second trimester and beyond, I focus more on relaxation, releasing the pelvic floor and deep hip muscles, and finding symmetry in these areas. 
I often train moms a little more dynamically in second and third trimesters. I incorporate more body mechanics into the third trimester, such as how to correctly transition into or out of bed and the car.  In the third trimester, I also incorporate relaxation training. It is easier to teach this before delivery, as it is hard to learn for the first time when you are in the midst of a contraction!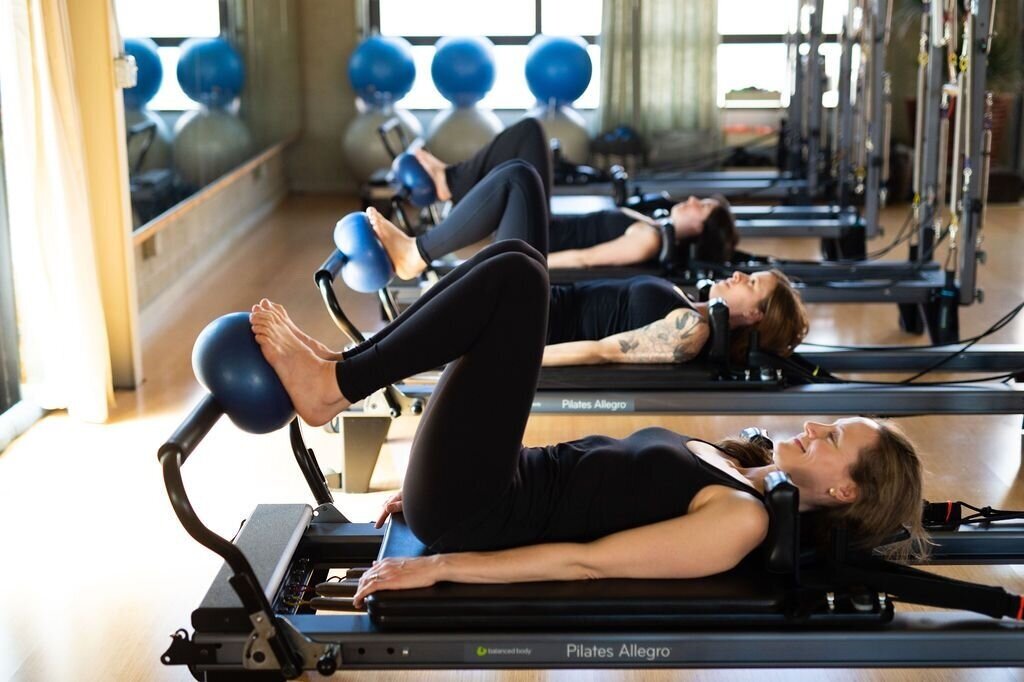 Q: What is your favorite stretch and/or strengthening exercise for women to facilitate an easier birth experience?
I support ALL mamas, regardless of what type of birth they intend to be having. So many things can change, so we work on resilience and trying lots of different things.
When preparing moms for birth, I focus on relaxation and symmetry of pelvic, leg, and back muscles. We work on evening out flexibility in their hip muscles (especially hip flexors, inner thighs and hip rotators), side waist muscles, and pelvic floor. This is so that their babies do not have to navigate discrepancies in muscular tension. 
I will also do some exercises that are uncomfortable, so they learn to use their breathing to relax, such as rolling out quads on a foam roller or a one minute wall sit. Practicing being comfortable in pain, or finding some comfort in their breath in the midst of discomfort, is an important preparation for staying calm during delivery. We talk about viewing pain as a strong sensation (labor pain being different than chronic pain) and try to use this language in our framework of breathing during uncomfortable sensations.
Q: What is a private session with tru strong mama like?
We talk for a while about goals, how the mom is feeling, how many weeks pregnant or postpartum she is, what her daily life is like (working at a computer, toddler at home, farm/physical work, etc). Then, we look at the orientation of her core- where is her ribcage in relation to her pelvis- and we connect to her deep central core. Based on her goals, we play around on the Pilates equipment to stretch/relax/strengthen whatever is appropriate for her phase of motherhood.  
I work with women at every stage of motherhood, from before conception and into becoming a grandmother. There is a large range of women I am lucky enough to be with and help! The studio is small, intimate and super private.
Connect and Learn with Robin and truPilates
Thank you, Robin, for sharing your wisdom with all the moms out there, in every stage of motherhood! To learn more about Robin and the mission of truPilates and tru strong mama, you can visit her listing on the Take Back Your Health Directory here.